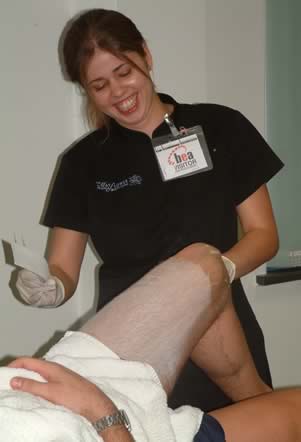 Waxing
Mayflowers Health and Beauty Clinic perform all types of waxing at very competive prices starting at just £8.
Last year we were asked by local company BEA systems to help their fund raising at a charity waxing event. We were of course only too delighted to assist.
The willing "victim" had his rather hairy legs completly waxed much to the obvious amusement of all the ladies!
We are open Monday and Friday 9am to 5:30pm, Tuesday to Thursday 9am to 8pm and Saturday 9am to 5pm.
If you have any questions or comments please do not hesitate to contact us by either e-mail or phone. Please help us by mentioning that you found us via our website and then you can request a 10% discount off your first treatment.
For more information contact us at
info@mayflowerbeautyclinic.com